What Makes These Women-owned Small Business Logos A+?
It's no surprise that we fangirl over women-owned small business logos like the ones below! As a female-led and owned biz, we've done our fair share of brand strategy for small businesses manned (pun intended) by the fairer sex.
We're here to prove that female-led brands don't default to stereotypical pink and feminine typography (though we obviously have nothing against pink over here). These women-owned small business logos are as diverse as the women who hold the reins. 
Whether your biz is considering a re-brand or you're just starting your journey as a female entrepreneur, we're excited to share some of our favorite branding inspo. Get ready for juicy color palettes, gender-neutral typography, bold fonts, and surprising photography styles. Let's lo-GO!
15 Crush-worthy Women-owned Small Business Logos
#1 ILIA Beauty
Most beauty products have lengthy ingredient lists. ILIA wants to change that. Using clean and simple ingredients, this skin-care and makeup line lets their customers go au natural…but kicked up a notch.
This simplicity is mirrored in their clean and simple branding and logo. A sleek sans-serif font, soft, neutral color palette, and carefully-curated product pics speak to those looking for something more eco-friendly to replace their (ex) favorite products.
Another thing we adore about Ilia Beauty? Their recycling program! You can mail back your empties free of charge to be responsibly recycled instead of going to a landfill. 
#2 Sheabrand
Started by three besties, Sheabrand combines the powerful healing powers of CBD with minimal-waste packaging, certified-organic ingredients, and cruelty, paraben, and palm-oil-free standards. With bright colors, a rounded logo, and fun fonts, this female-owned branding reads energetic, modern, and just a wee bit girly!
What we dig about Sheabrand's logo and branding is that it puts the emphasis on ingredients and benefits, much like the brand itself. As you can see in the product photo above, Sheabrand's logo is minimal on its packaging. Product names claim the spotlight. Could this minimalist approach work for your women-owned small business logo?
#3 kaia naturals
Who says female-led branding has to be girly? Founded in 2010, Kaia (a play on "Gaia" or "earth") focuses on clean, green, Credo Clean Beauty certified beauty products. So, of course, we love it!
Besides what's inside the bottle, we also can't get enough of their minimalist, black and white logo. A series of simple rings, it represents their take on beauty: fewer, better products. 
When this brand does use color, it has major impact. Spa-like, muted greens and purples are met with flashes of metallic silver and gold. If your women-owned brand loves bold, minimal logo design, this could be a great example of how to approach this clean logo style.
#4 Saalt
Saalt helps women reduce their dependence on disposable menstrual products with reusable period panties and menstrual cups. According to the founders, the name represents an all-natural approach to period care because salt is a mineral that is essential for our bodies. But also…it just sounds cool af (our words, not theirs).
With soft, pastel colors and a minimalist, clean logo, this brand does a great job speaking to women who want something better for their ladybits. Another badass biz that proves women-owned small business logos don't have to be over-the-top feminine to appeal to the modern female consumer! 
#5 Tower 28 Beauty
"At Tower 28 Beauty, we like our beauty products the way we like our beaches: clean, full of sunshine, and for everyone."
This brand is modern, accessible, and speaks to our inner beach bum! With a fun wavy logo that's literally (and figuratively) moving on their website… it's hard to forget this brand is all about fun in the sun! What a great way to catch their audience's eye and attention!
Unpopular brand strategy opinion: We also love how they adapt their logo to fit different packaging designs. With a truly memorable logo, you can mix it up. You don't have to stick with one logo format as long as your brand colors, logo style, and the overall essence of your branding stay the same. We know some brand strategists are adamant that you have to only use one or two logo versions, but we aren't sticklers. We do what we WANT. And so does Tower 28!
#6 The Honey Pot Company
If you're going to be girly, do it RIGHT. Take note: we want to trust The Honey Pot Company with our honeypots. Why? Because their branding is impeccable!
This woman-owned company serves up plenty of humor and wit to accompany its logo. With fun colors and graphics, this is a prime example of how women-owned small business logos can be simple, clean, and typography-based…but still plenty girly when combined with a punchy feminine color palette. This branding targets the next generation of women who are ok with talking a little more casually about their bodies. And we're SO here for it.
#7 Cocofloss
Is it possible to make oral hygiene cool? Sh'yeah it is! Founded by two sisters, Cocofloss is a luxury dental floss brand that offers an alternative to traditional minty floss. With delectable "aromas" and vegan, cruelty-free ingredients, who can resist a good flossing? Not us!
They're shaking up the dental care world with their simple-but-powerful logo, reminiscent of a spool of floss. Their packaging incorporates a shiny, iridescent effect to their logo so it "pops" out at customers. And this bright color palette? We find it almost as enjoyable as their rainbow of floss aromas. We'll have summer in our medicine cabinet year-round when we invest in Cocofloss! We're in love. 
#8 Ava Fertility Tracker
Medical and health branding can easily be a snoozefest, but Ava avoids all the eye-roll-eliciting cliches. Their female-focused logo is a simple but memorable representation of…you guessed it! A cycle. This soothing color palette makes us feel prepared to chillax and log our cycle with a mug of hot tea or coffee.
Ava Fertility Tracker combines an intuitive app with a high-tech (and fashionable) wearable to track your fertile windows so you know the best times to try…or abstain. We find the primary lavender brand color calming, which is totally welcome when you're TTC or trying NOT to conceive. It's a major source of anxiety amiright?! We're sure women are thankful for Ava's stress-busting logo and branding choices during this vulnerable time—whether they're hoping for a babe or to keep all that disposable income for themselves!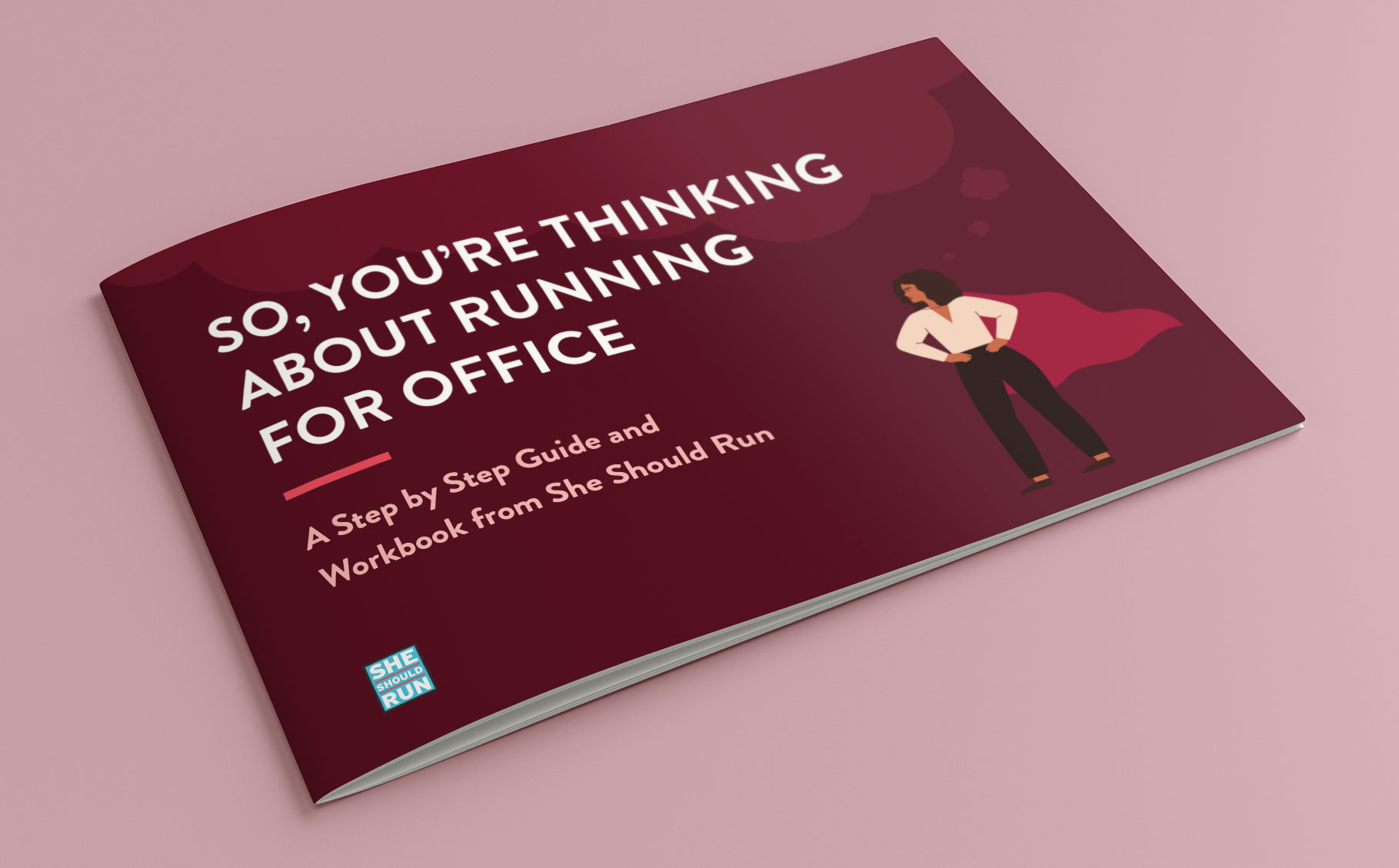 #9 She Should Run
Some logos are for spreading IDEAS. This non-profit encourages and supports women who want to run for public office. With a clever logo (think political yard sign), this women-founded group speaks to young, ambitious women looking to change the world. Or at least their communities. 
Paired with a power-packed feminine color palette that inspires Future Is Female daydreams, this logo solidly makes it onto our women-owned small business logos ballot.
#10 OSEA
OSEA stands for the core elements of wellness: Ocean, Sun, Earth, and Atmosphere. This brand's backstory—of generations of women inspired by the sea—is seriously meaningful. What. A. Storyline.
OSEA's logo and brand story also perfectly pairs with its clean, natural mission and the main ingredient in its products: seaweed! We can't get enough of this seascape color palette and wave-like typography logo. Are we gorgeous mermaids in need of skin-quenching products? HELL YES, OSEA. We see you.
#11 Yes Way Rosé
Based on the belief that Rosé is a way of life (because it is, duh), this brand is devoted to "beautiful colors, lighthearted wit, and inspiring flavors of pink wine." 
We adore their whimsical, pretty, and sophisticated logo, an artistic interpretation of a rose. We also love that their branding and logo extends to their editorial style—in their website copy and on social, you'll find important words spelled with totally unnecessary (but completely fun) diacritical marks (accents) over the e's.
Give us this fun font, rose-colored-glasses photography style, and tongue-in-cheek brand name any day. We'd expect nothing less of a brand that sells pink wine!
#12 Gr8nola
Who says your brand name has to be a real word? No one! Health food marketing is a pretty saturated market, so we encourage small biz owners to get creative! Founded by a health nut/food lover, "great" nola's logo is pretty straightforward. But it's readable, recognizable, and easy to recommend to friends!
With nutrient-dense superfoods and no refined sugars, gr8nola lives up to its name brand. Not only is it good for you, but it also tastes good! Their royal purple branding with hints of other complementary colors speaks to those looking for something…better. This branding is fresh, modern, and appropriately open-ended to attract nutrition freaks of all walks of life!
Here's a reminder that women-owned small business logos aren't necessarily designed for the biz owner's tastes. While Erica (Gr8nola's founder) may love purple, her logo was designed for her audience! How can YOU tailor your logo to make your target customer feel welcome?
#13 Winky Lux
Winky Lux's branding and logo perfectly exemplify their mission: to make fun, clean, and playful luxury makeup affordable for everyone. They want to change shopping for beauty products "something more delightful." 
With its lux color palette, brightly colored products, and gorgeous graphics, this female-owned branding knows its target audience. A detail we love? As their website loads, their typography-based logo "winks" at you to let you know the makeup magic is coming! How can you creatively incorporate your logo and branding like this on your women-owned small business site?
#14 Golde
Golde is a minority-led, female-owned business that knows a thing or two about branding.
Brooklyn-born Golde offers a wide variety of superfood-rich nutrition products (seriously – everything from smoothies to skincare). With a simple, clean logo that reminds us of a rising sun, Golde makes self-care feel easy, island breezy, and effortlessly energetic. Their bright, colorful packaging is enhanced with fun and delicious-sounding product names, like Pineapple Punch! Yum! We'll take two of everything you got, Golde.
#15 Birchbox
As one of the most popular makeup subscription boxes, we're confident you've heard of Birchbox. But we'd love to tell you why WE love them and their accessible branding. Birchbox aims to make beauty and grooming simple for all. With a classic typography-based logo, a casual font, and products that fit every lifestyle and budget, this women-owned brand speaks to both men and women. But ok…mostly to modern women. 
The Birchbox logo is a great example of how women-owned small business logos don't have to carry the burden of an entire brand. You logo can be minimalist to appeal to both men and women, while your packaging and color palette can reflect the goals of each of your product lines or services. Think of it like "one logo to rule them all"! This is how Birchbox can mix up its box design each month and still maintain flawless branding.
The other reason we love Birchbox? It works with the Female Founder Collective, a network that brings attention to women-founded businesses. Birchbox helps female-owned and led beauty brands gain notoriety by sharing their awesome products with consumers who may otherwise never find them. Talk about paying it forward to other ladybosses!
How Does My Women-owned Biz Snag a Logo This Bitchin'?
The ladies of LoudBird are here to help you bring your female-owned business or woman-led brand to life. Re-branding after experiencing some major growth? Congrats! We got you. Starting your new brand and know you should invest in branding *from the beginning* to avoid a rebrand down the line? We're SO happy you get it and we're here to help you find your visual identity. 
We help small business owners like you find the perfect business name, brand strategy, and packaging design for their small business goals. While we can't take on each and every female entrepreneur who wants our help, the ones we do work with are PUMPED about the quality of our branding services. 
Want to work with LoudBird to create your own spin-off of one of these inspirational women-owned small business logos? Get in touch. Or check out our small business branding services for more info. We'd love to get to know you better and see if we're the right small business branding agency for you!