What Is Content Marketing? —in 2022 and Beyond!
If your small business or startup isn't yet using content marketing, then you're losing out on a huge tactic to make more sales. While you may have heard of content marketing many times, do you really understand it? In order to use content to win sales, you need a strategy. Otherwise, you're just wasting your time. So let's discuss the nitty-gritty details of what content marketing IS, what it ISN'T, and how you can create your own practical content marketing strategy to build your small business in 2022!
The Definition of Content Marketing
Content marketing is a strategic marketing tactic that's focused on creating and promoting relevant, valuable content to attract and convert your ideal customers or clients.
It's subtle. It's slightly sneaky, but in a way that's endearing to your customer. Not annoying. It should never be "salesy". It's storytelling… for sales.
How is Content Marketing Different from Advertising?
We like to explain content marketing vs advertising to our clients with an analogy. In the world of digital marketing, content marketing is Don Draper. Paid advertising, on the other hand, is more like…Billy Mays.
Both of these fellows can make your brand a ton of money. But your audience (probably) wouldn't invite Billy Mays to a cocktail party. Don Draper? He might even stay after the cocktail party.
Don's a friend. He helps. He's ON YOUR SIDE, providing humor, storyline, and tons of undeniable value. And he KNOWS things. He had insider tips to share, just because he likes you. He's your guy.
This is the essence of content marketing. It helps. It's friendly. It's NOT pushy. Content marketing is all about creation for the sake of education. With the bonus of top-notch sales promotion, too. Because Don always makes the sale.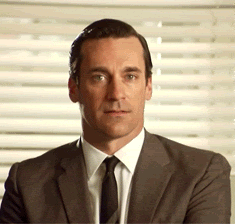 What Is Good Content Marketing?
• Builds trust.
Establishes your brand as an expert in your industry.
• Educates your audience.
Helps them understand your industry and the problems your products can solve.
• Promotes brand awareness.
With your ideal customer and keeps your business top-of-mind until they're ready to purchase your product or service.
What Content Marketing is NOT.
Now that we know what content marketing is, let's go over what it's not. It's not Billy Mays—may he rest in peace. It isn't quite so in-your-face and sparkly. It doesn't tell you that you HAVE TO HAVE THIS RIGHT NOW AND IT'S GOING TO ROCK YOUR WORLD. It's not a stick…it's a delicious, nutritious, organic carrot that your audience can't help but nibble.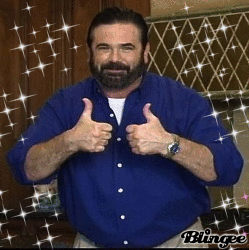 What Is BAD Content Marketing?
• Overly promotional.
While the content you produce may have promotional aspects, the point of content marketing is not shameless promotion.
• Cluttered with irrelevant or spammy links.
Or a million ads. Or undisclosed affiliate links. This type of shadiness immediately breaks your audience's trust in your content marketing.
• Hard to read, view, or share.
The whole point of content marketing is to reach your audience. Make it easy to consume and share with others.
Effective Forms of Content Marketing 
There are countless forms of content marketing. New ways to educate and inform your audience are cropping up every day.
Jumping on new forms of content marketing, like video content marketing, is essential for meeting your audience where they work and play. But we will always stand by the tried-and-true tactics as well! Because different consumers prefer to consume content in different ways. And blog posts are iron-clad, even if video is the new "it" girl.
Here's a rundown of the most effective forms of content marketing that can help you grow your small biz in 2022.
• Blogs and Resources
These might appear on your website or on other partner websites that also appeal to your customer base. They should be 800-1,200 words and packed with information. And easy to read! Try using creative formatting and breaking up large chunks of text with on-brand images.
• Videos and Vlogs
Which appear on your website, social media accounts, or YouTube.
• Podcasts
Podcasts are insanely popular! As of 2021, there were over 120 million podcast listeners in the United States. Your brand can launch its own podcast or plan to contribute to existing industry podcasts. You can interview other industry experts, tell stories about your business and the people who founded it, or share tips and tricks that your audience will find helpful.
• Online Tutorials
To answer frequently asked questions about your industry, products, services, or the problems you solve. These can be in the form of a search engine optimized FAQ page on your website, a YouTube Video, a Live broadcast on social media, or a blog post.
• Slideshare or Infographics
That you can distribute to your audience after an informational presentation. This is a great way to keep your brand top-of-mind after an in-person event and help your audience by letting them relax and listen instead of taking notes.
• E-books, Free Guides, and Many Other Types of Media
Created for educational purposes, not direct profit. These offer tons of value and can be a great way to collect emails for your email list or warm leads that can be passed off to your sales team. OR offered with no strings attached to build trust and rapport with potential customers.
• Repurposed User-generated Content
This is content developed by your audience about your brand. Not sponsored content. Organic social media posts, for example. Or a YouTube video reviewing your product in-depth. Or an unboxing video or blog post. You can use it in your own content marketing campaigns to build trust!
• Curated Customer Testimonials
Formal testimonials are a way to control the online narrative about your brand and curate your best organic reviews. They build trust and should be one of the main content forms used on your website and social media.
• Social Media Posts and Video
Social media marketing is its own beast, but social should absolutely be part of your overall content marketing strategy for 2022. It can help you promote other forms of content!
• Email Marketing
Emails can offer original content or help you repurpose existing content marketing in a convenient direct-to-inbox form that many customers appreciate.
• Physical, In-store, or In-office Content
Mailers, brochures, pamphlets, in-office videos, and telephone scripts often get overlooked when we talk about content marketing. But they're making a comeback! While physical and in-person content marketing isn't right for every industry, it can actually be shockingly effective. If used correctly, it shows genuine care for your customer and their needs. Especially when combined with an advertising promotion—like a free sample or special discount.
• Digital Speaking Events, Live Social Events, and Webinars
Digital events, webinars, and going Live on social media channels is a convenient, safe way to reach your audience during the aftermath of a global pandemic. You can use these as a way to build your email list or offer up existing content you've created. And you can save these events to broadcast again later for fans that didn't attend real-time.
How Can Content Marketing Help My Small Business?
So how can content marketing actually improve your digital marketing strategy in 2022? Let us count the (5) top ways…
• Content improves your small biz website SEO (search engine optimization)
SEO works hand-in-hand with content marketing to increase your organic website traffic. By creating keyword-rich, 700–1,200-word articles, videos with transcripts, and SEO-optimized website copywriting, you'll ensure customers can find you via Google search. Have you had a professional SEO audit in the past year? If not, you might be missing out on major content opportunities.
• Content engages your audience
There are over 5.6 billion Google searches every day! That means your audience is looking for content to engage with—whether that's sharing, liking, commenting, or reading. When audiences engage, they develop a deeper relationship, affinity, and customer loyalty with a brand.
• Content builds trust
It deepens and personalizes your relationship with your customers because it allows you to provide them with more of what they want and add authentic value to their lives. And show your personality!
• Content converts
It helps generate new leads and interest in your brand and the value you provide. It gently escorts prospective customers from the far reaches of your sales funnel (like an organic social media post) to the epicenter: your sales pages.
• Content retains followers and loyal customers
Content marketing isn't just for winning new customers, it's also a great tactic to retain existing customers. And encourage them to purchase again with insider discounts, news about new product releases and features, and other updates.
Why Do I Need a Cohesive Content Strategy?
Do you want to waste your money, time, and mental energy?
Well, that's essentially what you're doing when you approach content marketing with no content strategy. Content strategy combines SEO analytics data, real-world customer questions, and a dash of ideal customer targeting. Without it, you're shooting in the dark.
Content strategy helps your content marketing ring true with authentic, relatable subjects your audience wants. It prevents you from creating content that isn't going to serve your audience or bring in leads and sales. And it identifies untapped niches you might otherwise miss in your research, so you can write or record in-demand content before your competitors.
In short, content strategy enables you to lead the charge instead of straggling behind your competitors trying to catch up.
What If I Don't Have Time for Content Marketing?
Sometimes small business owners just don't have the time or energy to tackle content marketing. Here are some tips.
Hire a Professional Content Marketer
You can hire a freelance videographer, a social media manager, or a virtual assistant to help you capture content for your social media profiles and website. The only problem? These individuals often don't have any training in content strategy. So your content (and budget) isn't helping your business as much as it could.
Before you waste money on "cool" content that doesn't convert, we suggest hiring a qualified agency like LoudBird! We'll help you figure out your content strategy so you can feel confident, prepared, and on top of that 2022 marketing planning! Because if you're creating unfocused content that isn't tailored to your ideal audience, you may bring unqualified leads that won't convert to your website. BUMMER.
Plan Your Content Ahead and Schedule It
Dedicate one or two days a month to content generation. Then do all of your content marketing tasks in a batch instead of trying to tackle them each day.
You can schedule blog posts in your CMS. Social media content can be scheduled in advance with software like Later and Planoly. Or directly in the Facebook Business Suite for Instagram and FB posts. Insta Reels, YouTube videos, and other video content can be filmed in advance.
How can you streamline your content creation process to get more results from your content marketing with less time and effort? A solid content marketing plan will help you nail this down with easy-to-follow steps and content creation goals each week, month, and quarter.
Use AI to Create Content
While we don't recommend this, it is an option. We don't think AI technology is currently advanced enough to generate quality content marketing assets. But definitely let us know if you try it and see positive results!
We hope this guide has been valuable and informative! We always practice what we preach and try to give our audience awesome digital marketing advice to build their small biz! Browse the rest of our blog for more free marketing education for small business owners!